Archived Interviews
This section has been archived. For more current Interviews, head on over to our blog.
Dragon Age Interview with David Gaider 2/17/12
Dark Horse Comics and BioWare are partnering on a different publishing model for an extremely exciting project. New Dragon Age comics are coming and they are exclusive to our Digital store beginning Feb. 22nd. We sat down with the writer David Gaider to chat a little bit about the upcoming series....
[more]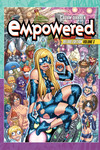 Empowered Interview 2/14/12
Hitting shelves Feb. 29th is an amazing collection of awesome. The Empowered Deluxe Edition Hardcover has over 700 pages of content for only $60 in this one time printing. That's one beautiful hardcover. And Don't miss your chance to win a copy of the book in this contest! While we could talk about the book all day, we figured we'd go to the source of the amazing stories and get to know her a little better. We sat down with Empowered at her HQ and asked a few questions. We may have even...
[more]
Dark Matter Interview: Joseph Malozzi 12/22/11
Welcome to the next big thing in Sci-Fi Comics! Dark Matter is set to hit shelves Jan. 11th 2012 and we're honored to have Joseph Malozzi on board to help bring something new to the world of comics. We asked Joseph a few questions to get things started. He generously took a few moments to ease inquiring minds....
[more]
An Interview With House of Night Creator P.C. Cast and Kent Dalian 11/3/11
Check out our interview with House of Night creator P.C. Cast and comics writer Kent Dalian!...
[more]
Evelyn Evelyn Interview: Amanda Palmer 9/19/11
Evelyn Evelyn creator Amanda Palmer took some time with us to share a few thoughts about the book and her creative process....
[more]
---
Conan the Barbarian
Updated 2/1/12
Iíve been writing comics about tough men with swords for a while now, and if there is one thing Iíve learned itís that swords and fighting donít...