Archived Horsepower
This section has been archived. For more current Horsepower, head on over to our blog.
Conan the Barbarian 2/1/12
Iíve been writing comics about tough men with swords for a while now, and if there is one thing Iíve learned itís that swords and fighting donít make the man. People of this era and of this genre, whether it is historical or more fantastical, are not defined by their accessories, but by strength of character. By the time a guy like Conan hits the right age to pick up a sword, the world around him has been shaping his character for some time already....
[more]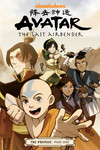 Avatar: The Last Airbender 1/1/12
And thatís one of the reasons why my involvement in the Avatar comics has been such a thrill. As I work through the scripts, Iím playing in a world described not only by the Nickelodeon cartoon but also by my motherís stories. Together with Mike, Bryan, and the ubertalented Japanese art team Gurihiru, I now have the chance to bring a bit of the showís magic into the panels of my favorite medium....
[more]
House of Night 12/1/11
Well, since most of you have never heard of me, I'll introduce myself. Hi, I'm Kent Dalian, and House of Night will be my first-ever foray into comic-book writing. I come to you via the world of screenwriting, which is how I met P. C. Cast—cowriter of the successful line of novels of the same name, alongside her daughter, Kristin. I was hired to write the screenplay for her best-selling House of Night series, and the producer put us in touch so I could pick her fun...
[more]
The Strain 12/15/11
I first encountered Guillermoís work back in the mid-1990s through Miramaxís Dimension label. They had given me a poorly dubbed, blurry videotape of a film from this great young director, Guillermo del Toro. The film was Cronos (which bears a few thematic similarities to our new comic book), and Iíve been a fan ever since....
[more]
Randy Stradley on Star Wars 11/18/11
In Star Wars, the Imperials get a bum rap. There. I said it. Oh, sure, the Empire was founded on evil principles, but Emperor Palpatine manipulated the fears, hopes, and ambitions of otherwise good people to help him construct and run the bureaucracy that controlled the galaxy. And yes, there were some actual bad guys within the Imperial system (Grand Moff Tarkin comes to mind, among others)...
[more]
---
Empowered Interview
Updated 2/14/12
Hitting shelves Feb. 29th is an amazing collection of awesome. The Empowered Deluxe Edition Hardcover has over 700 pages of content for only $60...